Danevang
The Danish capital of Texas.
History
Beginning in 1894 100 Danish immigrant families who had originally settled in the Midwest, bought various size parcels of land and moved to the area of Texas about 75 miles Southwest of Houston and established the community of Danevang. When they arrived they found flat land covered with prairie grass that reached to the bottom of the wagons. At first they tried to raise the same crops, such as wheat, oats, and barley which they had grown in Denmark and in the Midwestern states, but soon found the Texas climate was not suitable for these crops. Therefore they had some very lean years, and some of the settlers sold out and moved away. Those hardy souls who stayed in Danevang soon learned that cotton was a better crop to be raised in that area. After the farmers all converted to raising cotton, the community began to prosper and has continued to be successful.

In the early years the Danish language was spoken throughout the community and the Danish traditions were maintained, such as observing the Danish holiday celebrations. Through the following years, English gradually became the primary language and the citizens of Danevang became Americanized. In 1993 a group of people with ties to Danevang, some still living there and some who had left the farms to make a living elsewhere, were discussing the history of the community and realized that the Danish heritage of Danevang was being lost. Some of those people got together and formed the Danish Heritage Preservation Society for the purpose of restoring and preserving that heritage.

The Society purchased three acres of land from the church for a museum site. Two buildings have been moved to this site and a 6,100 square foot museum building has been built to resemble a Danish barn.

In 1995 the Texas State Legislature proclaimed Danevang to be the Danish Capital of Texas.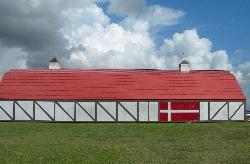 Heritage Museum
The Heritage Museum is housed in a building constructed very much like those built by the early settlers but including features reminiscent of the barns of Denmark. Of course, the roof is red. The museum houses artifacts of the early Danish settlement, but also contains exhibits relating to the Viking culture as well as exhibits pertaining to the agriculture of the area, weather observation, and the historic Danish cemetery.
Danevang Danish Heritage Museum
153 CR 426
Danevang TX 77432
Hours Tuesday-Thursday and Saturday, Sunday
1:00 p.m. - 4:00 p.m.
979-578-0808
Small Admission fee. (Donation)
Map of Danevang, TX US
For more information please contact


Danish Heritage Preservation Society


PO BOX 386
Danevang Texas 77432
(979) 578-0808